1957 MG ZB Magnette
Part One - Purchased, Home and Departed again.
With a small addition to our family and the desire to keep MG-ing it became apparent we needed a bigger MG. Having sadly sold my two MG YAs I decided the best option was to hunt out a a ZA or ZB Magnette. However, this proved to be a challenge. Thanks to a heads up from a fellow Magnette fan I was given the details of a car that had been parked up for some years.
Here's how I found her, in an open shed with a nice damp dirt floor!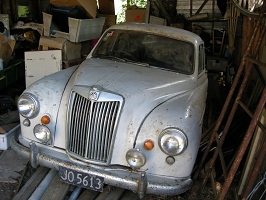 It was pretty hard to inspect fully but on the whole it didn't look to bad, so plans were made to hull it out for a better inspection. A couple of weeks later we returned with a trailer and luckily a block and tackle. About 4 hours later with the three of us pretty worn out we'd managed to drag it out of the shed and free up the brakes. It was clear the sills, doors, front floors had all rotted out but the rest of the car seemed sound, so the deal was done and she was loaded up for the trip home. With some effort and the use of a crank handle it was slowly wobbled off the trailer and back in my garage.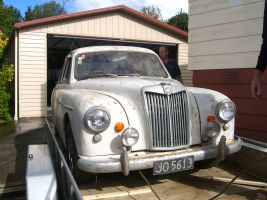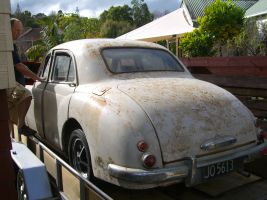 We made some attempts to start it with no success but it was clear it wouldn't take much to get it going. So the plan was to make her drivable and then tackle the body as a rolling restoration, well that was the plan anyway....
With little effort the from left-hand suspension was stripped down and the guards removed which was when things started to get interesting, and I quickly realised the front LH chassis rail was bent, as you can see in photo below.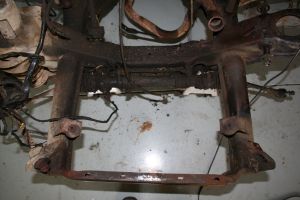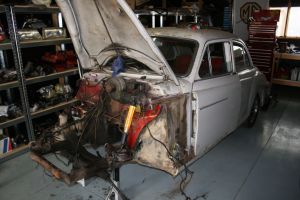 A quick phone call to Graeme Ireland Classic Car Restoration to discuss the situation was reassuring, but the rolling restoration idea was out the window. So the Big bore 1500 was removed and the stripping started. As you can see there was only a little bit of rust in the sills!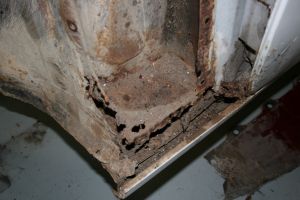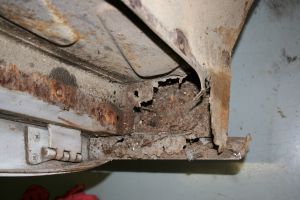 A couple of weekends later and a couple of cans of WD40 emptied the car was stripped and ready to depart. There were some interesting finds along the way, from 20mm of bog on the front guards to a very large rat carcase under the passengerís seat, however the biggest surprises were yet to come.